A "New Back Panther" leader with the Martin family at a rally for Trayvon
"The whole thing is an institutionally media-generated racialist/socialist psychopolitical agitator's dream come true." - Conservative Tree House
So what will happen if the parents and Attorneys of Trayvon Martin are presented with a verdict they are not happy with? Will the parents stand up and denounce the New Black Panthers, or will they stand with them. To date, they've done both.
In the video at the link above, the New Black Panthers stand in front of George Zimmerman's Condominium community, not only putting him in danger, but endangering the safety of all the residents, including Brandy Green and her son Chad. Sybrina and Tracy would surely not approve, especially after the violent way their son just died....would they?
Black Panther leader threatens to make a citizen's arrest on George Zimmerman, even offers a $10,000 reward. I can't imagine the rioting that would occur if the KKK was given air time on AC360.
Muhammad: Well, according to the street law, he has been charged with murder.
Cooper: According to the what? Muhammad: We have 40—30,000 people out here today—according to street law, according to God's law. Andy, I want to say I don't obey the white man's law, I don't follow the American law. The American law—the American law does not protect me, Anderson. I'm not a citizen.
Anderson pointed out that even the left-wing Southern Poverty Law Center has labeled them a hate group.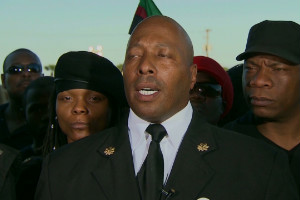 Martin family attorney Daryl Parks echoed comments by others associated with the family, including the Rev. Jesse Jackson, condemning the apparent bounty offer. "We don't condone those people whatsoever," Parks said.
Speaking earlier Monday to city officials in a packed Sanford Civic Center, Trayvon's father, Tracy Martin, said his family wanted to work through the legal system and spur changes in Sanford's police department and Florida law.
"We're not asking for an eye for an eye," Tracy Martin said. "We're asking for justice, justice, justice."
~*~
And yet, the Martin family and Benjamin Crump were surrounded by the militant group at a rally for Trayvon Martin after the group put a bounty on George Zimmerman's head:



The gentleman in the front in the black and white jacket is a new black panther member



It seems the Martins are so confident in the naivety of their followers, they blatantly show up to rallies surrounded by the very group they denounced. Hard to know what they are sincere about. One thing we DO know, they set out to persecute George Zimmerman from day one. They have been relentless in their efforts to paint him as a monster, and their juvenile delinquent son as a saint. Any blood that is shed due to a verdict the world doesn't accept will be on their hands. They know who Trayvon was and what he was capable of.
Meanwhile, the New Black Panthers prepare for the Republican National Convention...